A presentation on the European standardization project for the machine-readable marking of crates and pallets was given at the Seafood Expo Global on Tuesday 25th April 2017. The contributors were Denis O'Brien, Director of Standards & Solutions of GS1 Ireland, and Rainer Schrundner, Consultant, ident.one, chairman of CEN TC225 WG4.
This new standard is developed in the "European Committee for Standardization (CEN)". The publication is planned for 2018. Thereafter, the standard automatically becomes a national standard in 34 European countries.
According to Article 67 of Implementing Regulation 404/2011 on EU Regulation No 1224/2009 establishing a Community control system to ensure compliance with the provisions of the common fisheries policy …. operators are required to use internationally recognized standards and specifications as the basis for machine-readable markings as soon as the marking contains a machine-readable element such as a bar code.
For example, an example of a standard-conforming label for fish crates might appear in the future: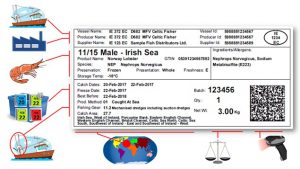 Here a link to the presentation given at the Seafood Global Expo